A Unique International Careers Portal
Guest post from UWE - Getting a job after your studies can be tough but there is help out there. GradLink UK is the award-winning specialist careers site for international students and graduates who have or are studying in the UK.
This article is a guest post from our partners at the University of the West of England.
If you're an international student or a recent graduate from these regions, GradLink is the essential place for learning about graduate opportunities and connecting with graduate employers across the world. It is your essential link to careers and jobs in your home country and beyond.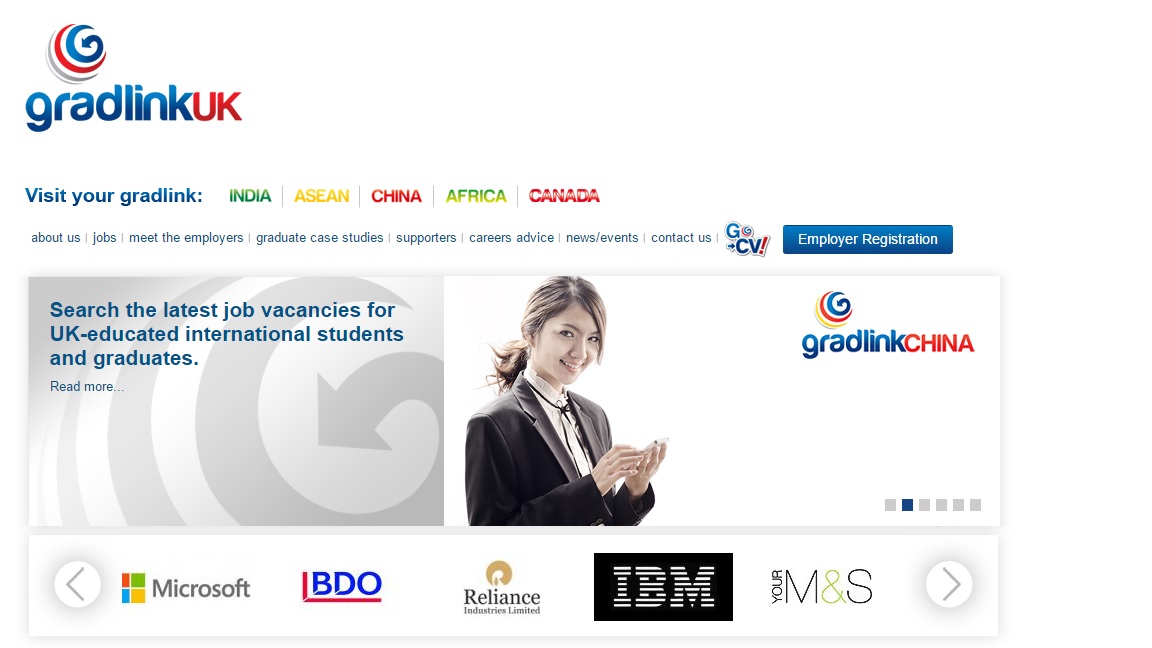 GradLink currently includes specific focus for China, South-East Asia (ASEAN), Africa, India and Canada, with further country sections to be added soon.
Through the GradLink website you are able to:
· Search and apply directly for jobs
· Build and/or submit your CV for our employers to search using Go-CV!
· Research the graduate job market in your chosen country in our advice section
· Find out about the latest international students′ careers, news and events
· Use our social media for latest news/jobs and to connect with other international students in the UK
GradLink UK is powered by the University of the West of England (UWE Bristol). GradLink UK is free of charge to all.
Gaurav, a UWE Bristol graduate who used the GradLink Service is now an Associate at PwC in Malaysia. He'd give the following advice to international students or graduates when looking for a graduate career: "Being focused is the primary advice. Conduct research on the firms you think would suit you best and apply to them early. Speak to people who have worked for and/or who are still working for them and get an idea of what working for a firm as such would be like."
David Gee, Global Careers Consultant at UWE Bristol and mastermind behind the development of Gradlink UK says, "The abolition of the post study work visa has meant that many international students have to leave the UK on graduation. This site is a direct positive response to help connect international students with graduate employers in their own country and across the world. Businesses are invited to advertise vacancies and opportunities and the graduates can put up individual profiles. There are also extensive advice sections.
"We are delighted that many other UK Universities, alongside UWE Bristol, have linked to the site including Oxford University, Manchester, UCL and Edinburgh"
There is now a network of more than 340 employers based across Asia, Africa and North America who use the service including multinational organisations including Deloitte, PwC, Citibank, Microsoft, ACCA, Savills, Neusoft, KPMG, Bayer, Bosch and Vodafone.
UWE Bristol recently won the Outstanding International Student Strategy award at the Times Higher Education Awards 2015 for the Gradlink initiative. The judges said, "Gradlink UK has had impressive numbers of students and employers use the service nationally and internationally, helping the UK retain its reputation for the employability of its graduates".
There are currently over 1,400 students who have registered their CV with GradLink and who employers are reviewing for potential roles. GradLink is the essential place for learning about graduate opportunities and connecting with graduate employers in your home country.
Posted on January 12, 2016
Replies
Great Uni! Good People! Fun Subjects! Flinders is the best! More people should go here, the campus has duckies :)
reviewed on April 26, 2014