What is it REALLY like to study English in London?
An international student at Hampstead School of English, London UK, talks about their experiences. We hope this is helpful and interesting for prospective students!
Just after my graduation ceremony I decided to leave my country and start a new chapter in my life. I wanted to study abroad in order improve my English language skills and to try to maximise future opportunities.

I was 28 at that time and I used to travel to London quite often but I didn't know the Hampstead area at all. I came across the Hampstead School of English website by chance. Hampstead is not as popular as other areas in London, and when you look at the map it looks far away from the city centre where you think all the fun stuff happens- such a wrong assumption!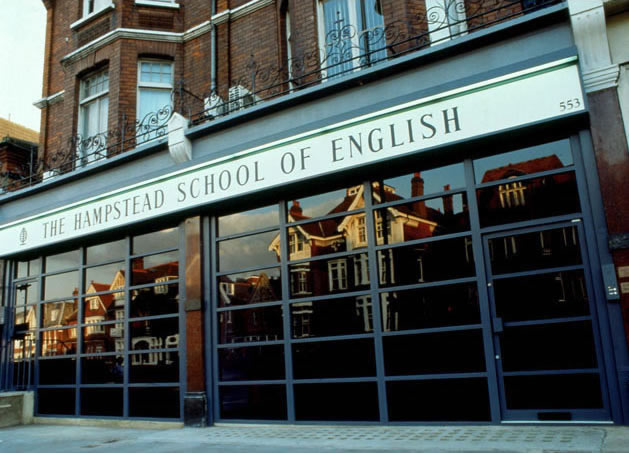 Arrival
Being sceptical by nature before enrolling on my course I took a couple of weeks to look around and visit several schools. Hampstead was the last one on my list even though it was my first choice.
When you walk in, there's a large hall and you can find reception on your left- people at reception are very friendly and helpful. They guide you through the enrolment process and in case you are confused about which course is the right course for you- considering your aspirations and purposes there is always someone with the capability to give you advice.
I had a tour around the school and I was pleased to notice that classrooms and facilities were bright clean and spacious- anyone who has been in London can confirm that space is not a common characteristic for buildings! Moreover what a lovely surprise to find several communal areas where students can meet up and practice their English as well as having their lunch. There is also a library if someone wants to study or just borrow materials such as DVDs and books.
Accommodation
As soon as I enrolled I asked for some information about what kind of accommodation was provided by the school. I might have used a website that allows you to get in touch with landlords or potential flatmates but when you arrive here you do not have references or a UK bank account so that would have been stressful. Moreover, how can you be sure that you are going to share your accommodation with nice people and have the possibility to change if anything is wrong?
One option was a residence that is just 5 minutes' walk from the school- all rooms have an en-suite bathroom and you can either decide to have private or shared kitchen- a good option but not for me since I really wanted to speak as much as possible with native speakers.
The second option- the most suitable for me was homestays. You can be within a reasonable walking distance or up to 45 minutes from the school. The family I went to stay with was great! Maybe I was lucky, I can generalise my experience with all the families that are working with the school but the attention and the care from the staff was above my expectations. They really care about their students' overall experience and I was often asked if everything was okay with the family and encouraged to speak to them if circumstances changed.
Classes and life at school
I have experienced almost all of their courses during my 9 months stay. I started with general English in the morning and moved on to FCE. It was my FCE teachers who asked me if I wanted to do some voluntary work as a librarian. I ended up with a pretty good deal- Lessons in the morning and some good work experience in a friendly international environment in the afternoon- if you are a European citizen you should definitely ask whether they need a Librarian!
My English skills have progressed a lot during my enrolment- I started as a B2 student, and in what I would call a long and challenging journey I was finally able to join the CAE class. From time to time, students can be tired or demotivated- learning a new language is really difficult and when you reach a certain level where you can communicate and maybe even get a job at Costa or Zara, sometimes you are not able to see or feel that you are actually improving. Well don't give up- go and speak with someone, there are for sure options that can enhance your language skills!
Just one thing- it's a fact that when someone is far away from home they do feel lonely and as soon as they realise that in the school there are other students from their country they tend to gravitate towards them. This is actually a fatal error- do meet with them but try to also engage with students from other countries- at Hampstead there are more than 30 different nationalities!
School Events
School can fill up your day with social and/or educational activities. There are a wide range of alternatives - it is totally up to you and your preferences. A popular favourite has always been Pub night- It's so relaxing to meet up in the middle of the week and try to escape from books while still practising with your new friends.
You can even go around London with a member of the staff- you never know you might have the opportunity to spend more time with one of your favourite teachers or with someone that you've never interacted with but that you've heard is an amazing and funny person.
You might think that you can't go into central London without the school- I thought exactly the same and again I have been proven to be wrong. There is nothing better than going out in such a huge city and discovering places from a Londoners point of view- this can help make this city your second home.
London outside the school
Life at school is Monday to Friday and you can have tips on what to do during weekends throughout the school- why not escape to the English countryside or visit villages and towns that are part of the British heritage? 15 minutes on the train from West Hampstead station is the market village of Saint Albans previously an ancient Roman town called Verulamium- home to Roman ruins and the oldest pub in Britain. But before you do this, don't forget to ask reception for your student card, you might have offers or discount just showing it!
You can either find out more information from local newspapers, every London area has one, or subscribing to one of the many London events website.
Remember London is a multicultural capital and every weekend there are so many different things to do that you can't get bored, as Samuel Johnson said "When a man is tired of London, he is tired of Life".
We thank our partners at Hampstead School of English for giving us permission to post this article on our blog

Thanks for reading, remember you can read more student reviews of language schools and universities here at www.gotostudy.com
Posted on February 21, 2016
Replies
My experience at PGA international golf institute is good because I can get to train with PGA professional golf coach and get to practice...
reviewed on July 29, 2014